RICS London to Paris bike ride completed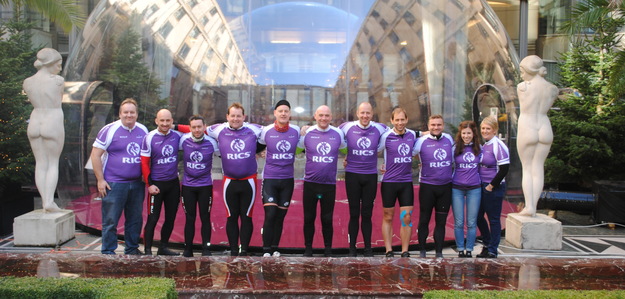 26-11-2015
A team of hardy RICS cyclists has completed a gruelling bike ride from London to Paris in aid of LionHeart.
The team of cyclists, including Governing Council members Matt Wallace and Richard Garland, and Ken Creighton, RICS director of professional standards, set off from Westminster, London, on Friday 20 November. They took two days to cover the 175 miles to Paris, braving some early starts and freezing temperatures.
RICS president Martin Bruehl had been due to take part but was forced to pull out at the 11th hour due to a foot injury, travelling instead in the support car.
Promoting RICS' commitment to sustainability, the team had also decided to use the challenge to raise money and awareness for LionHeart.
Matt Wallace said: "I am very proud to have completed the London to Paris ride in the name of RICS and sustainability, and to have supported such a fantastic charity as LionHeart at the same time."
But, with the eyes of the world on Paris in the wake of the recent terror attacks, their destination took on new significance. The RICS logo on the support car was joined by a #JeSuisParis banner.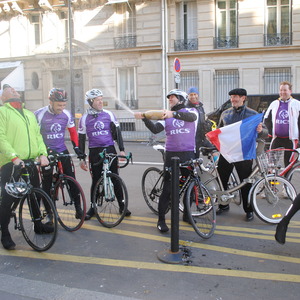 The journey wasn't all hard slog for the cyclists and the support team. A stop-off at the end of day two gave them a chance to rest before attending a dinner hosted by Philippe Jouan, former chairman of RICS France.
Mr Bruehl said: "The evening was full of music and celebration. It was moving that the locals were grateful we had still embarked upon the bike ride despite the events in Paris."
Congratulating the cyclists, he added: "Overall it was a really successful ride, and thank you to the many people who have already donated to support LionHeart."
Just hours after the team's arrival in the French capital it was business as usual for Mr Bruehl. He chaired a meeting of the Governing Council focusing on sustainability, a week ahead of the UN Climate Summit.
People can still donate to LionHeart via the team's Just Giving page.
Read a report about the Governing Council's Paris meeting here.