SDL & Countrywide in Route 66 fundraising head-to-head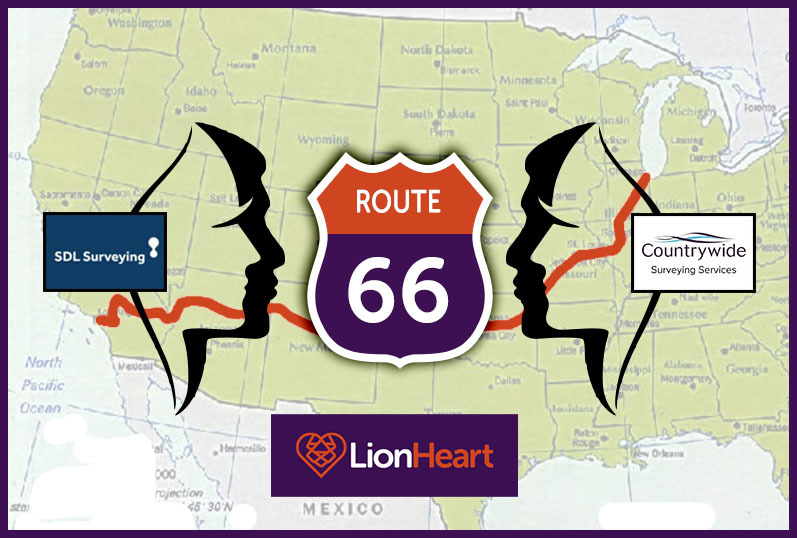 23-05-2022
Trainee surveyors from the academies at two of LionHeart's corporate partner firms are limbering up to go head-to-head in a virtual fundraising challenge for us.
Teams of 20 from the academies at Countrywide Surveying Services and SDL Surveying will spend the month of June in a virtual race along America's famed Route 66.
Cutting right across the heart of the USA, Route 66 spans 2,400 miles from Chicago to Santa Monica, Los Angeles. One of the most famous roads in the States, it's acquired almost mythical status and is celebrated in song, film and TV after serving as a route for those looking to migrate to the west of the country.
Academy members will be walking, running, cycling and swimming to clock up as many miles as possible to propel them along Route 66 to victory - raising money for LionHeart at the same time.
Both teams will be plotting their progress on Strava throughout June, posting updates using #SDLCSSRoute66. At the end of the month, the team that's carried out most miles will be declared winner.
A joint fundraising page has been set up on Just Giving.
Sarah Chalmers-Steven, head of professional development at CSS, said: "We recognise the importance of bringing new talent into the surveying industry and have successfully trained over 200 individuals over the last 10 years, who are now AssocRICS qualified and enjoying fulfilling roles as residential surveyors.
"This initiative between our two training academies of obviously a bit of fun, but also highlights the importance we both place on our academies - plus it supports a charity close to our hearts, LionHeart."
Adrian Drummond, assistant training & quality care manager at SDL Surveying, said: "At SDL, we're passionate about enabling our people to develop personally and professionally. The SDL Academy supports surveyors at all levels: from trainees hoping to achieve their AssocRICS, right through to APC candidates and more experienced professionals looking to attain their FRICS accreditation.
"It's great to see both of our academies come together for this challenge - with a small amount of friendly rivalry - to encourage the next generation of surveying talent to shine, while also raising money for a fantastic cause in LionHeart."
LionHeart fundraiser Carolyn McDonald said: "We are delighted staff from Countrywide and SDL have chosen to support LionHeart through their Route 66 fundraising challenge. Every penny they raise will make a huge difference to surveyors and their families who are facing really difficult circumstances.
"Good luck to everyone taking part and we can't wait to hear how the challenge goes!"