SDL Surveying do 5K May for LionHeart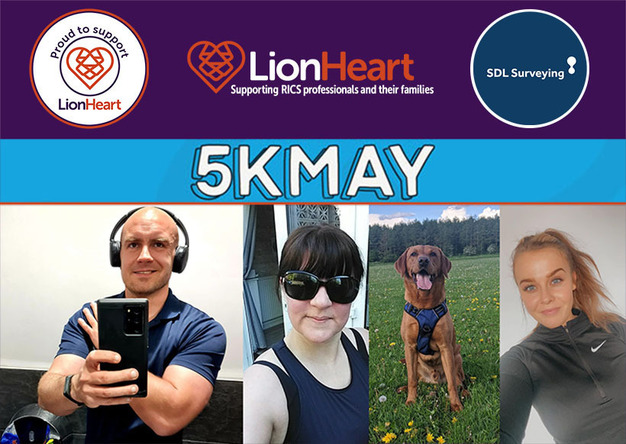 08-06-2021
Earlier in the spring we invited our supporters to get involved in the 5K May challenge to raise money for us and one of our corporate partners, SDL Surveying, took up the gauntlet with a flourish!
Charities all over the country teamed up with the creators of the 5K lockdown challenge, Run For Heroes, to run #5KMay. It asked people to participate in a 5K - however they liked - during May, donate a fiver to their chosen charity and nominate five other people to take part.
Bosses at SDL encouraged their staff to get involved for LionHeart and pledged to match whatever funds were raised.
James Billington, from SDL, explained why they had been keen to back the fundraiser: "We wanted to get behind a great initiative and get people as active as possible. Our colleagues were nominating each other all month, and posting pictures on our intranet. It's been great to see people out running, walking the dog, cycling all throughout the month!
"We stressed that people could run/walk/skate/cycle any part of it - but the important thing was they all got involved, and that's what happened. We also celebrated Mental Health Awareness week in May too - and one thing good for your mental health is exercise!
"One of the great benefits of working at SDL is the company match funds any monies raised towards a charity. We know how difficult the last 12 months have been for charities due to the global pandemic, so it's great that even more money goes to an amazing cause.
"LionHeart are an amazing charity that SDL supports. I'd encourage any other firms to get involved in fundraising for them: the services they provide such as financial support, free professional counselling and legal advice are invaluable - and you never know when your circumstances can change and you may require their support."
LionHeart fundraiser Faye Smith said: "We're so very grateful to SDL for getting the whole company behind 5K May. It's been a challenging time for charities and, like so many others, several of our regular fundraising events had to be cancelled last year, with many also having to be shelved for a second time this year.
"That's why virtual fundraisers like these are more important than ever and we're really glad the team at SDL had some fun while making such a valuable contribution to our work at the same time. Donations like these really do help us continue offering the very best support we can to past and present RICS members, particularly in the wake of such a difficult year."
To find out more about the different ways you or your firm can support LionHeart visit our Support Us page
Contact our fundraiser Faye Smith