Spotting and dealing with work-related stress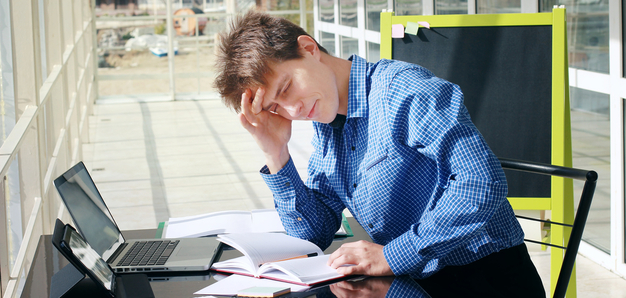 25-10-2018
Bet you don't go far from your multitude of devices. Smart phones, tablets, laptops - all designed to keep you in touch wherever you go. Right?
But that touch-of-a-button connectivity with your friends and family also means something else - the modern generation is now more accessible to their bosses or workplace than ever before. Our ability to scroll through work emails or log on from home can mean it's really difficult to switch off.
It's widely believed that the 24/7 nature of technology is contributing to an increasing problem of workplace stress.
Over one in four of us will now experience a mental health issue these days. Of these people, around two-thirds believed that workplace stress was a contributing factor, and mental health issues are now said to add up to a whopping 70 million work days annually.
It can be hard to spot the signs of workplace stress in someone, or to recognise them in yourself. All too often, someone will be at breaking point before they consider going to their GP or asking for help.
Recognising and responding to early warning signs of stress can really help deal with the problem before it takes over.
LionHeart's counsellors say these signs might include:
Working out of hours: regularly coming in early, or staying late
Emails sent late at night or very early in the morning may mean someone struggling to switch off
Odd days of sickness, especially on Mondays. Research undertaken by reed.co.uk shows that people feel most stressed on a Sunday night and may believe they are unable to face the week ahead
Cutting off colleagues: no longer engaging in light chat or talking about personal life
Lost sense of humour
Being withdrawn or irritable
Not taking time away from the desk, to eat lunch for example
Drinking more alcohol or comfort eating
Physical symptoms may include sleeplessness, exhaustion, or unexplained headaches or backaches
Lost interest in hobbies or spending time with friends and family
It may be that someone who is suffering from work-related stress feels uncomfortable telling their colleagues or bosses about it.
LionHeart support officer Ben Halpin offers the following tips on how to reduce and cope with work-related stress:
The working environment
Switch your work smart phone, tablet and laptop off when the working day is over and don't check work emails outside of working hours
Have a set time to do specific things, like checking emails, and organise your inbox so it doesn't seem like you have multiple tasks to complete at once
Learn how to say no, or set boundaries. If your boss asks: "Can you just do X, Y or Z before you go", practise saying politely: "I haven't got time to do that now, but I'll be back in at 9am and I can deal with that first"
Prioritise your work load so you don't get bogged down with things that aren't important or not needed straight away
Learn to delegate
Talk to a trusted colleague or raise the issue with your boss. It's better and cheaper for them to get to the root of stress than for you to go off sick for long periods
Take regular breaks
Outside of work
Make time for yourself. Have a hobby, pastime or other activity that you enjoy doing and set aside a regular day or time to do it

Take regular exercise and try to eat a healthy diet
Make time for your hobbies, friends and family
Getting enough sleep. Set a regular time to go to bed and try to avoid having TVs, laptops, tablets and smart phones in the bedroom
And don't forget, if you wish to share your worries, confidential support is available from LionHeart counsellors and support officers. Call 0121 289 3300 or email info@lionheart.org.uk