Brand new support for surveying students & apprentices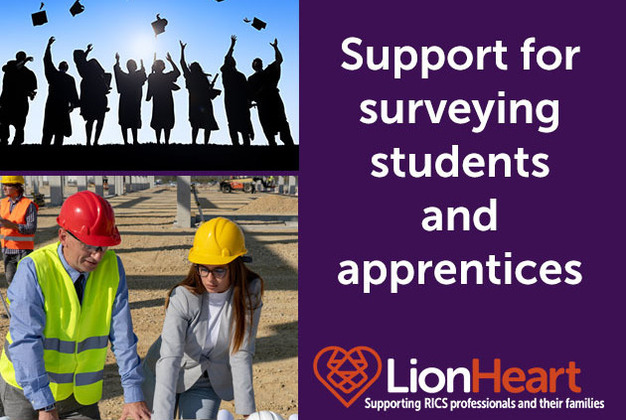 12-11-2020
LionHeart has made some exciting changes to our governing documents to allow us to offer support to surveying apprentices and some students for the first time ever.
Legal changes have been made to our charitable Articles of Association to enable us to broaden the range of people we can help.
As a result, we are excited to be launching our very first student grant programme, aimed at helping surveying students from poorer backgrounds in the final year of a qualifying degree programme take their first steps into the profession. Eligible students who are in receipt of a full maintenance loan will be able to apply to LionHeart to cover the costs of buying suitable interview wear and travel to interviews or assessments, where travel costs are not otherwise reimbursed by the recruiting firm.
Any final year students on accredited programmes may also use LionHeart's coaching service, legal advice helpline and online webinars.
A number of our services will also be opened up to young people aged over 18 who are on apprenticeships leading to an RICS accredited qualification. These include LionHeart counselling, coaching, access to legal advice helpline and our wide range of personal development and wellbeing webinars.
Chair of the LionHeart board, Peter McCrea FRICS, explained the reason for making the changes: "The trustees felt it was necessary to update our general position on who we will help, to reflect the marked increase in the ways people enter the profession - some of which were largely unheard of a decade ago.
"In making these changes, LionHeart continues to evolve and ensure we help the widest range of members of the RICS family."
Juliet Smithson, LionHeart's head of operations, added: "We are delighted to be able to open up more of our services to support the surveying professionals of the future.
"As the latest research shows how the property sector lags behind comparable professions when it comes to attracting diverse candidates from lower socio-economic backgrounds, we feel it is especially important to do what we can to help young people who are just starting to carve out a career in surveying.
"LionHeart has been around for over 120 years and we pride ourselves on changing with the times to reflect the surveying profession we are here to support, with the most relevant of services. We really look forward to engaging with the students and apprentices who will be tomorrow's chartered surveyors."
Recent research funded by JLL UK Foundation, a charity focusing on supporting young people from low socio-economic backgrounds into the property industry, showed that the sector lacked diversity, with significantly fewer people from poorer backgrounds compared to most leading accountancy and law firms, and government departments.
Key findings showed that, of the participating firms, half had attended an independent or selective state school, 33% of senior execs had attended an independent school, and white men dominated senior positions in the sector. Concerns had also been raised that the long-term implications of Covid-19 were also likely to further impact social mobility in future.
Find out more about our new support: