Surveyor's suicide prompts industry mental health project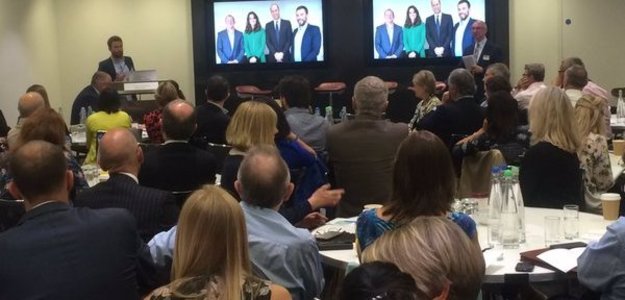 15-09-2016
The tragic suicide of a retired company MD has prompted action to improve awareness of mental health issues within the property industry, and help employers provide better support for staff.
LionHeart has been asked to take forward an important new partnership following the inaugural John O'Halloran Symposium in May. The event was organised by John's family and former colleagues, and aimed to explore attitudes towards mental ill health, tackle the stigma surrounding it, and encourage a more open culture in the industry.

John, (pictured left) a Fellow of the RICS and former MD of BAA Lynton, sadly took his life in March 2015 at the age of 63. He had kept a long battle with depression hidden from friends and colleagues, and never fully recovered from the death of his wife to cancer in 2012.
Opening the event in May, Gordon Edington - a former colleague of John's and past president of the British Property Federation - said his death had come as a huge shock, and left so many questions: "If I had known more, could I have done something? If the property industry had a more supportive culture, could the outcome have been different?"
Delegates at the well-attended event, which was hosted by CBRE, expressed a strong desire to "do" something as a result of John's death. Many said they believed the pressures of the industry meant people were more likely to hide mental health problems, and the feeling was that many firms, especially smaller ones, were unsure of how best to support employees.
Now members of the John O'Halloran steering committee, which includes Gordon, John's son Rob and former colleagues Howard Morgan and Simon O'Donnell, have signed an agreement with LionHeart to take forward a longer-term mental health initiative.
It will see a follow-up 2017 Symposium held in London, with two more awareness-raising events planned for outside the capital.
And LionHeart will also pilot workshops and online resources themed around mental health awareness and work-life balance, after carrying out research among chartered surveyors and APC candidates which highlighted a clear appetite for this type of training and development.
Resources will be developed in conjunction with experts to help promote better mental health in the workplace and offer better support to staff. There will be a particular emphasis on providing advice and guidance for small to medium sized firms.
Parita Kansara, LionHeart's Partnership and Events Manager, said: "LionHeart is perfectly placed to take the work of the John O'Halloran initiative forward: we have first hand experience of how the pressures and stress of work can have massive repercussions for people's mental health, and we're really excited at being able to help firms make a positive difference to wellbeing."
LionHeart offers free, professional counselling for RICS members and their families who may be struggling with mental health issues. Find out more
Register your interest for the future health and wellbeing workshops by email