Surveyors take on Snowdon for LionHeart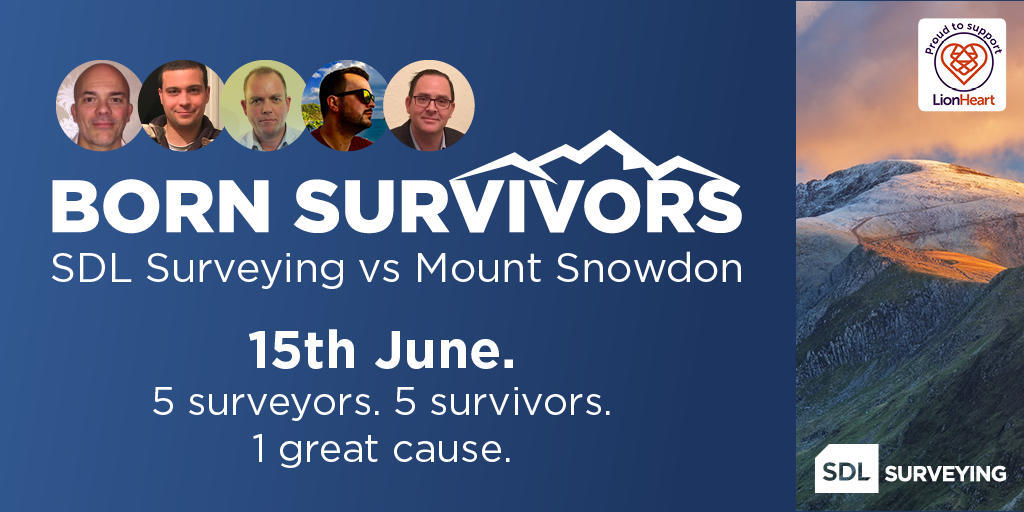 30-05-2019
A team of five regional surveyors have set their sights high in a fundraising challenge for LionHeart.
The adventurers from SDL Surveying will be climbing the highest peak in Wales, Mount Snowdon, in June - despite having done little to no training.
The five members of the SDL Regional Surveying Team who will be undertaking the challenge are Adam Baker, Adam Santos, High Riley, Richard Ballam and Jon Spencer. They've already beaten their initial target of £1000, with bosses at the firm also pledging to match whatever they raise up to £5000.
Adam Santos said: "I've worked at SDL for over six years and in my time there have been various fundraisers for very worthy causes. However, being a remote worker, it was often difficult to really get involved. The regional surveying team want to do our bit, and what better charity for surveyors to support than LionHeart. The response so far has been fantastic and we are so grateful for all the support and donations."
Hugh Riley added: "We hope surveyors from across the industry will consider supporting our ascent of Snowdon in aid of LionHeart - the charity's work is recognised by all as providing an outstanding contribution to those surveyors or families in need of help."
Team mate Jon Spencer said he hoped their climb would help raise awareness of LionHeart, adding: "Understanding how important this cause could be to my colleagues and friends in the field makes me a firm believer in doing my bit to support it."
The team will set off for the summit on June 15th. You can sponsor them on their VirginGiving page here

Could you and your team be LionHeart heroes?
We are really grateful for all the fundraisers people put on for us, whether that's one of many annual events or a one-off challenge like the Snowdon climb. Money raised goes directly to supporting people just like you, when they need it most.
If you're interested in raising money for LionHeart, please contact our fundraiser Carolyn McDonald