The Covid-19 crisis – our impact so far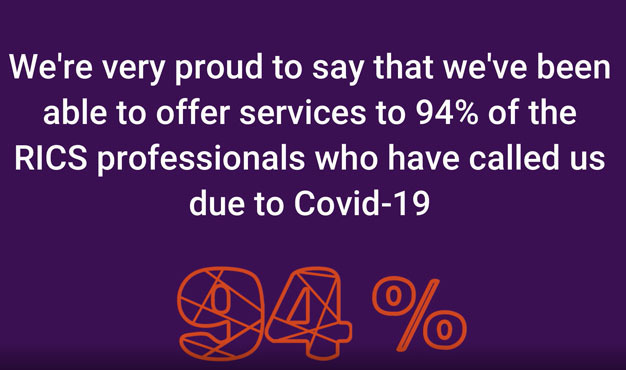 15-07-2020
The team at LionHeart has been working hard to support RICS professionals and their families through the first few months of the coronavirus crisis.
Applications for our grants have risen by 100% compared to the same period last year, while the amount we've paid out in grants has gone up by 78%
As well as the financial impact of the pandemic, we've seen a rise in demand for our other support services, including emotional support and counselling, together with a huge jump in the need for legal advice referrals.
Watch the video below to get an idea of how we're helping RICS professionals through this period - and what some of them have to say about it.
Davina Goodchild, CEO of LionHeart, said: "Calls to our helpline are up by 34% on the same time last year and we are so pleased to have been able to offer services to an incredible 94% of those people who have called us due to coronavirus. This has included financial support for some RICS professionals who had lost their income streams almost overnight and had been left facing a very uncertain future.
"I'm so proud of the whole staff team, our trustees and ambassadors - we all have the same goal; that no RICS professional is left without support when they need it."
If you are an RICS professional who's struggling, call the support team now to find out all the ways we can offer help: 0800 009 2960 (UK) or +44 121 289 3300 from outside the UK.

Alternatively email info@lionheart.org.uk and one of the team will be in touch.