Tributes to long-serving LionHeart trustee Billy Jenkins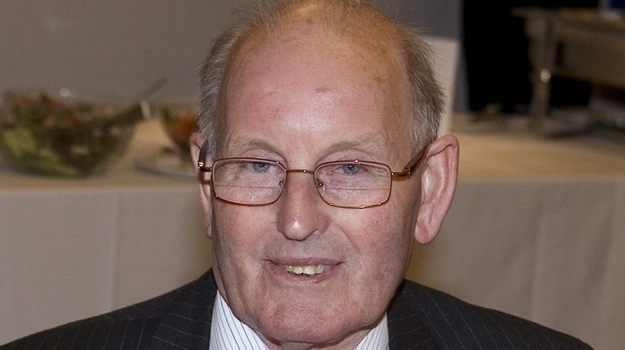 12-01-2017
Tributes have been paid to a stalwart of the RICS in Northern Ireland whose involvement and support of LionHeart spanned more than 40 years.
Billy Jenkins FRICS died after a short illness aged 83 on January 5th, after spending a number of years caring for his late wife Brenda. He had enjoyed a long and successful professional career, serving as the chair of the Northern Ireland RICS branch from 1986-87 and chair of the General Practice Division from 1980-1.
Billy qualified as a member of RICS back in 1970, becoming a Fellow in 1975, and was a constant fixture on various committees and sub committees of RICS Northern Ireland until his retirement in 1995.
His involvement with LionHeart began in 1972, when he began volunteering for what was then known as the RICS Benevolent Fund. He would later go on to become one of the longest serving trustees of the charity, remaining involved with the board until 2013 when he decided to retire from the position to concentrate on caring for his sick wife. In 2000 he was awarded an MBE for his services to LionHeart.
(Below: Billy and LionHeart staff at an afternoon tea function)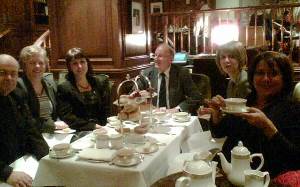 At the time of his retirement, LionHeart CEO Davina Goodchild put together a special commemorative book to mark his incredible commitment to the charity over 40 years, in which she wrote: "LionHeart has benefited greatly from your caring, calm approach to life. For many years you have quite literally been 'Mr LionHeart' for RICS members and their families in Northern Ireland.
"You have made a huge difference to the lives of many families and have worked with other trustees and staff at LionHeart to make sure we are always generous, caring and go that extra mile for the people we help."
Support services manager Bena Kansara, who has been with LionHeart for almost 20 years, worked closely with Billy for many years due to his involvement on the welfare committee. Describing him as a "true old fashioned gent", she said: "He was just so passionate about helping members of our profession, and was genuinely a lovely, lovely man who was so generous with his time. He had a great sense of humour and loved nothing more than to catch up with members of the LionHeart team over a glass of red wine."
Messages of condolence for Billy's son and daughter have been sent to LionHeart from former trustees and colleagues.
One said: "The Institution and LionHeart owe a huge debt of gratitude for so many years of selfless service."
Another said: "Billy was a lovely gentleman with always a twinkle in his eye and the profession has lost one of their stalwarts."
And another said: "The world will be the poorer for not having people like Billy because of the benchmark that he set so high which he was very prepared to stand for."
Billy was a loving father to Wendy and Stephen, and also leaves daughter-in-law Gilly and grandson Tobias.
His funeral takes place today in Belfast. Representatives of the RICS and LionHeart will be in attendance.