Ukraine war: how we're helping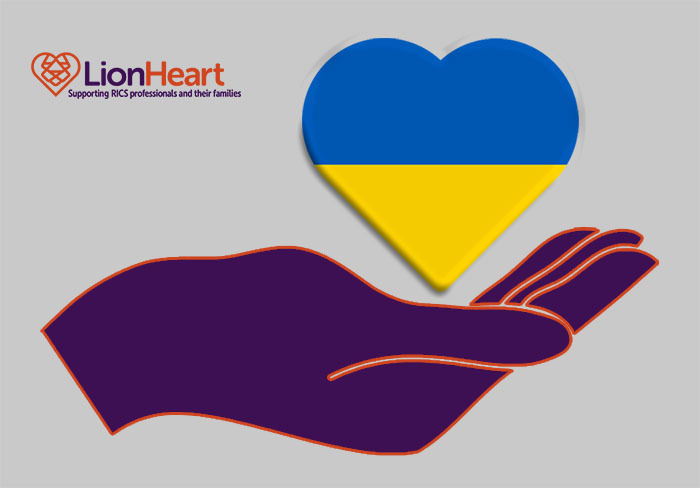 12-04-2022
LionHeart's team of support officers have been working hard to turn round emergency grants to RICS professionals fleeing the war in Ukraine within hours of receiving their requests for help.
We've been able to get immediate financial support to several RICS professionals who have managed to get to safety in other countries in the last few weeks. The support officers will now keep in touch with them over the coming weeks and months as they begin to plan their next steps and work out what their future holds, to see what other support we might be able to offer if needed.
Emergency grants have also been paid to help support the families of male Ukrainian surveyors who have been unable to leave the country because they are of fighting age, but who were desperate to get their families to safety.
LionHeart's support services manager Bena Kansara said: "It's hard to comprehend just how much life has been turned upside down for some of the surveyors who have been in touch with LionHeart over the last few weeks. Some have spent weeks travelling to reach safety, some with small children; they have left their homes, jobs, businesses, and most of their possessions behind.
"We have heard from one RICS professional whose home in Kyiv was sadly destroyed in a missile attack within hours of the Russian invasion and others still in Ukraine who don't know when they will see their families again.
"We hope the emergency grants we've been able to arrange relatively quickly will help provide some immediate relief and assistance. In the short term, that financial assistance has been the most important way of providing support but we will be staying in touch with all those we've helped so far to see how else we might be able to help as they and their families begin to rebuild their lives."
The LionHeart team has received some touching messages of thanks from those affected.
One man who remains in Ukraine said: "Thank you very much for the assistance and warm words. My family is in a safe area. You and your colleagues definitely have lion hearts!"
Another said: "I could never have imagined getting such support. Thank you."
Head of operations Juliet Smithson added: "We've already had direct contact with getting on for a quarter of the RICS professionals living and working in Ukraine, the majority of whom have been Ukrainian nationals. We are continuing to receive enquiries on a weekly basis and anticipate this will continue as more people settle in different countries.
"We are grateful to our friends at RICS and other corporate contacts who have really helped us get the word out to people in the region who may not otherwise have realised our support was there.
"We've also been touched to have had a number of enquiries from individuals and firms asking how they might be able to support our work with their fellow professionals who have been affected by the terrible events unfolding in Ukraine.
"While we aren't fundraising for this as a specific project, we are of course grateful for any donations to LionHeart. These contributions enable us to help RICS professionals facing many emergencies, disaster situations, or other challenges - wherever they are in the world."
Contact the team…
Make a donation…
You can make a donation to support our work here