What is counselling and how does it work?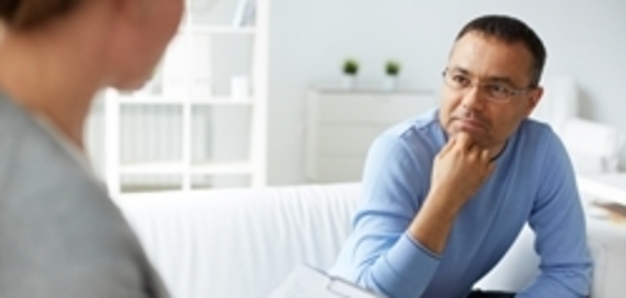 12-11-2015
Counselling. It's a word that may conjure up all sorts of images: lying on a couch talking to someone in a white coat, or being asked about childhood fears and hopes, perhaps.
There's also a perception that therapy is a very American practice, but in fact the use of counselling is on the rise in the UK, too. People are increasingly recognising the value of it, and it's less of a taboo to talk about your own mental health than it once was, according to LionHeart counsellor Bernadette Antoniou. She cites high-profile publicity campaigns such as the British Association for Counselling and Psychotherapy's (BACP) "It's Good To Talk" campaign, and mainstream media coverage, as part of the reason people seem to be more aware.
"The triggers for someone seeking counselling can be diverse," says Bernadette. "This could be a specific moment in someone's life, such as relationship breakdown, bereavement, ill-health, job loss or stress. Or, a build up of problems, worries or concerns over time may eventually lead an individual to look for a solution.
"Talking to a counsellor can really help someone process their thoughts and feelings and work through them. If a major thing happens to you, it can be very easy to shut it away. But, if you've not had opportunity to explore your feelings, it can create a pressure cooker that can lead to feelings of hopelessness, loss of interest in daily activities, irritability, anger, or sometimes suicidal thoughts.
"It really takes courage to make that first call. Picking up the phone is always the hardest thing, but for many people it's the first step to getting their lives back."
So, what should you expect from counselling?
Individual counsellors will all have different ways of working, but you won't be forced to talk about anything you are not comfortable with. Counselling aims to offer a safe and confidential space to talk through and explore feelings, or just offload on someone you can trust and who you know is not there to judge you.
How does LionHeart counselling work?
LionHeart offers free counselling over the phone, or secure online counselling via video calling and live chat. Our counsellors are all BACP registered and adhere to its ethical framework for good practice.
Typically, once someone has been referred to the team, one of our counsellors will chat to the client and find out more about them and their needs. In most cases, initial conversations will be followed by 10 weekly sessions, each lasting 50 minutes. The last few sessions may be spaced out to every other week, or sometimes extra sessions will be offered.
Will a counsellor tell me how to fix my problems?
No. The idea is not to tell you what to do about your problems. But, with the counsellor, you will have the opportunity to explore and make sense of the difficulties you are facing. Together, you will try to develop coping strategies so you are able to move on yourself.
Why is counselling useful?
Talking to family or friends can be useful, of course, but you may fear being judged, that someone you're close to might be critical of you, or will be hurt or angered by what you say. Offloading all your problems onto someone may affect the balance of your friendship and make what should be a two-way relationship seem a bit one-sided.
A counsellor is highly skilled and trained to listen to you in a non-judgmental way, offering a safe and trusting environment, and is bound by professional confidentiality.
LionHeart is here to help current and past RICS members, and their families. If you'd like to talk to someone about accessing counselling, call the helpline on 0845 6039057 (local rates apply) or email info@lionheart.org.uk