World Suicide Prevention Day: Why we must work together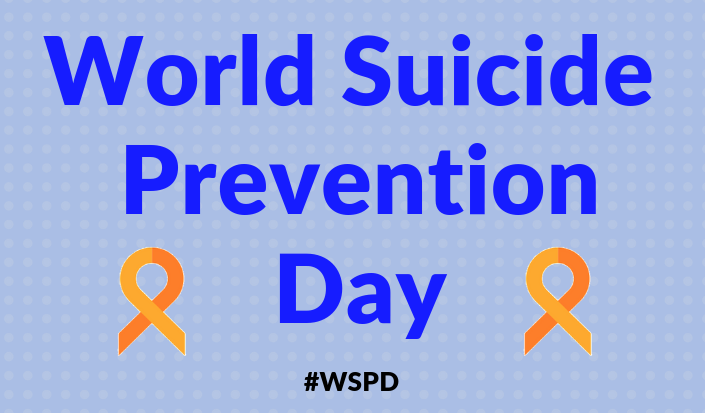 10-09-2018
The subject of suicide makes lots of people feel very uncomfortable.
Even though the issue of mental health and common problems such as stress, anxiety and depression are much more widely acknowledged and talked about these days, it seems like suicide is the final taboo - and people still believe it's something that will never affect them.
But the stark figures on suicide suggest otherwise, and
World Suicide Prevention Day
(September 10th) aims to make people realise that every single one of us has a part to play.
Worldwide, there are over 800,000 suicides every year - the equivalent of one every 40 SECONDS.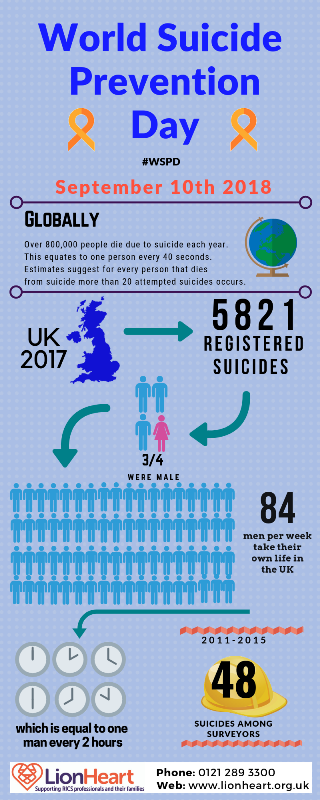 For every death by suicide, it's estimated there are another 20 attempts by people to take their own life.
In 2017, there were 5,821 registered suicides in the UK. Three-quarters of these were men.
The latest figures show that in the UK, 84 men take their own life every week, or one roughly every two hours.
Each one of those lives represents somebody's partner, child, parent, a friend, neighbour or colleague. Experts say that for every suicide, there are approximately 135 people who suffer intense grief as a result, or are otherwise somehow affected.
This means that, worldwide, somewhere in the region of 108 million people are impacted by suicide each year, and many more by attempted suicide.
Still think it's a subject that doesn't affect you?
Closer to home, between 2011 and 2015, there were 48 suicides among surveyors, three of those women [figures from the Office for National Statistics].
The numbers of RICS professionals contacting LionHeart because they are affected by mental ill health, including depression or anxiety, are also rising - last year these accounted for 15% of calls to our helpline, compared to 14% about physical ill-health or disability.
LionHeart's professional counselling team supported 40% more clients last year, and our support officers also helped a great many more people through all kinds of difficult times.
That's why this Suicide Prevention Day we're reminding RICS professionals that talking can save lives, and that our expert team are just a phone call away.
To speak to a LionHeart support officer in confidence, please call 0121 289 3300 or email info@lionheart.org.uk and we'll call you back.
From the LionHeart blog: