LionHeart's support was a game-changer when I failed APC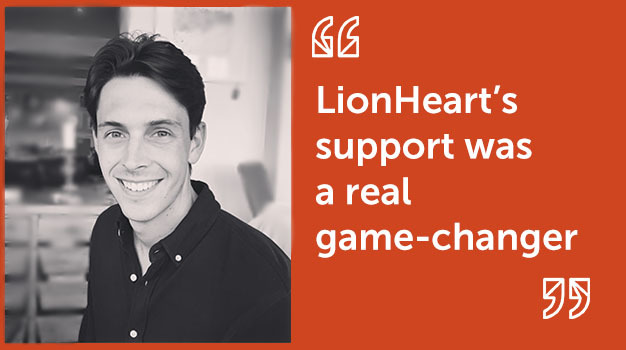 07-12-2018
When I was referred at my first attempt at my APC final assessment in May 2017, it really hit me hard.
I was going through a really tough period, feeling extremely low and emotional, and felt I'd lost all confidence in what I was doing. In fact, I was on the verge of giving it all up and looking to change career paths.
I'd heard about LionHeart through the RICS website. The catalyst for calling really was being so close to walking away from everything I'd been working towards; it felt like one last shot.
The support I received from LionHeart was a real game-changer.
One lunchtime I rang and had a conversation with Ben Halpin [LionHeart support officer]. We initially chatted about my APC interview and lengthy referral report, both of which had hit me hard mentally. I'd been struggling to deal with what I interpreted as failure, and the immense pressure I had put on myself in the run-up to succeed.
Ben spent time listening to me and later sent me a book on stress management which we worked through over the next few weeks. It really helped me put my worries into perspective, so I could plan a way forward.
The book referred to stress as a bridge - the greater the load you put on it, the greater the likelihood it's going to buckle, crack and eventually fail. I'd never thought of it like that before, but it made me realise that I had an incredibly busy life outside of the pressures of work and preparing for my APC. I played national league hockey, which meant training commitments three times a week and a game at the weekend. I also played competitive golf at the weekend, and tennis mid-week during the winter.
It all made me seriously re-evaluate my commitments and I decided to stop playing hockey and tennis to reduce the load, so I could focus on my APC and get some much-needed downtime.
It was something of a 'light bulb' moment for me! I later had a final chat with Ben and talked through my strategy to move forward. I found him incredibly reassuring, and he really gave me the belief I could get back on the horse and succeed.
After the support from LionHeart, I felt like I'd regained the confidence and drive needed to move forward. I went back through my referral report with my new APC supervisor and planned a clear strategy to succeed. With further experience and some structure to my training and revision, I was able to focus on one milestone at a time, which took the pressure off mentally and was, I believe, key in my success at APC Final Assessment in October this year.
I still can't believe I have done it! I look back at where I've come from and feel a great sense of pride that I never gave up and achieved what I set out to do. To be able to say I am a member of RICS is a huge honour.
The journey had definitely had its ups and downs and moments of discovery along the way. One of those that sticks out for me is being diagnosed with dyslexia this spring, some months after my first referral. I'd struggled with reading and comprehension my entire life but during my childhood and university years it just never dawned on me there was a problem. The diagnosis took a while to sink in, but I found I was able to turn it into a positive - I remember saying to myself, I've achieved so much in my life so far with undiagnosed dyslexia, it's not going to stop me now! I found some techniques to help improve my weaknesses in reading, which I could then implement in my APC revision.
If there are any other APC candidates out there who find themselves struggling, I'd say never be afraid to ask for support. It can be a very stressful process so having a good network is crucial. LionHeart was a channel for me to voice my worries which had been bottled up, and I can't thank them enough for their support.
Callum McDougall MRICS is a surveyor based in north-west England.
Useful links:
Supercharge Your Wellbeing workshop