Are you gay, lesbian, bisexual or transgender, and need extra support?
LionHeart is working with Freehold, a networking and support group set up exclusively for the LGBT community working within the real estate and property sectors.
It was felt that many professionals kept a low profile because they were afraid of homophobic bullying, or limiting their careers in some way.
But a desire to make the industry more diverse and inclusive led to the creation of Freehold, which has grown to around 800 members since its launch in September 2011. Members include building surveyors, valuation surveyors, agency surveyors, asset managers, architects, developers and property lawyers from both the public and private sector.
An industry first, Freehold is the collaboration of two major players in real estate -international law firm Taylor Wessing and leading building and property consultants Tuffin Ferraby Taylor.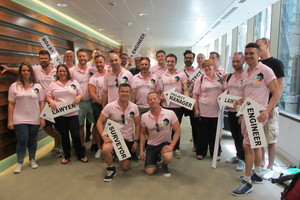 Backed by national LGBT charity Stonewall, Freehold aims to start addressing the equality gap for the LGBT community in the property sector, which is said to lag behind other industries in tackling sexual orientation issues.
The group hosts regular events that bring the LGBT community together to share concerns and issues, as well as to explore business opportunities in an informal environment. It also offers a mentoring scheme to provide support for professional and personal development.
Freehold also works with RICS, which sponsored its entry in Pride in London in 2015, and worked alongside the organisation as part of the Inclusive Employer Quality Mark and Changing the Face of Property initiatives.