Auction of vintage surveying equipment will raise money for LionHeart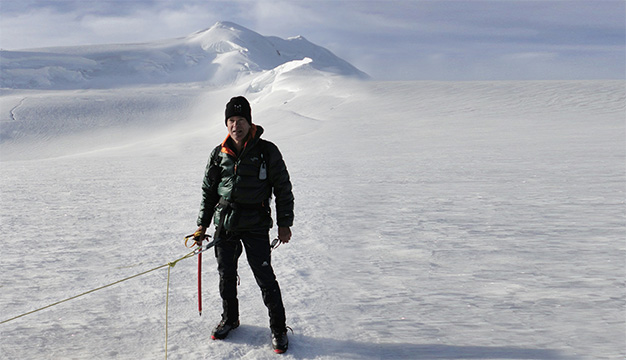 15-01-2018
A collection of vintage surveying equipment is to go under the hammer in aid of LionHeart following a generous donation by a chartered land surveyor.
Nigel Atkinson FRICS spent years snapping up the items, preserving a little piece of the profession's history. Now, as he prepares to retire, he has decided to donate the fascinating collection to LionHeart for auction.
Nigel said the donation was his way of giving something back to the profession after an enjoyable and adventurous career, which began when he graduated from UCL in 1979 with an MSc in Land Surveying and joined Hunting Surveys.
He says: "It was always more than just a job, particularly in the early days when we all spent long periods abroad. It was our life - a lot of fun, very tough, and full of adventure."
One such adventure was spending five months in the Empty Quarter of Saudi Arabia, "1000km by 1500km of nothing but sand dunes, a few Bedouin and us". Nigel became one of the few people in the world to cross the planet's biggest sand desert alone from north to south through its geographical centre.
He says: "Being young, I thought nothing of it as we were all doing extraordinary things. Just before that I'd been on a big Royal Geographical Society expedition to the Karakoram Mountains of northern Pakistan, west of K2, to measure how fast India is colliding with Eurasia, pushing up the Himalayas in the process, which involved 3 months of high altitude surveying and an awful lot of adventures. Since then projects have included a gold mine in Uzbekistan, a helicopter crash in North Korea, remote corners of the Peruvian Andes, and Antarctica."
Nigel (pictured above in the remote Karakoram) has spent the last 20 years closer to home, but his early globe-trotting sparked an interest in collecting theodolites and other survey instruments.
He observes: "Up to the late 80s they were made by skilled craftsmen; the extraordinary degree of accuracy was achieved by very precise optical and mechanical engineering rather than the very clever software of today.
"The theodolites made by Hilger and Watts, Kern, and Wild represented the pinnacle of engineering, and we will not see their like again.
"By collecting these instruments and their predecessors one feels a connection to the surveyors doing a similar job up to 150 years ago."

The lots include a compact Everest pattern theodolite, used in mountainous areas; a hypsometer, used to measure the height of remote mountain passes by measuring the boiling point of water; mechanical calculators; and one mystery instrument which even Nigel is unable to identify, believed to have been acquired in France.
Although Nigel will continue to keep his eye out for items he can't resist (despite protests from his wife!), he has decided to dispose of the majority of his collection, adding: "I've chosen LionHeart to benefit as I myself have benefited hugely from the RICS and the land surveying profession, which have provided many of the challenges and adventures in my life, and which I leave with great regret.
"The auction has a twofold purpose: to give back a little to the profession, and to ensure that these classic pieces of equipment will continue to be valued in the future."
LionHeart CEO Davina Goodchild said: "We're so grateful to Nigel for this generosity: it seems very apt that this auction takes place in what is RICS' 150th year, and that this little slice of history will help us continue providing support for present and future members."
The collection goes under the hammer at leading Surrey auction house Ewbank's LLP on February 15th, which will generously waive all vendor charges so LionHeart receives the full proceeds. Senior partner Chris Ewbank FRICS, a former chair of the RICS Fine Arts Advisory Panel and Governing Council member, said his firm was delighted to be involved in supporting such a good cause.
The auction
The 41 illustrated lots can be seen online with other items from the sale on preview here
The auction starts at 10am on February 15th and also features militaria, scientific instruments, photography, stamps and other collectables. The items will be on public view for several days before
Telephone bids can be made with online bidding through The Auction Room and the Ewbank Auctions website
For further information call the auctioneers on 01483 223101 or email antiques@ewbankauctions.co.uk
See some of the listed items in our video slideshow below!