Dealing with loneliness at Christmas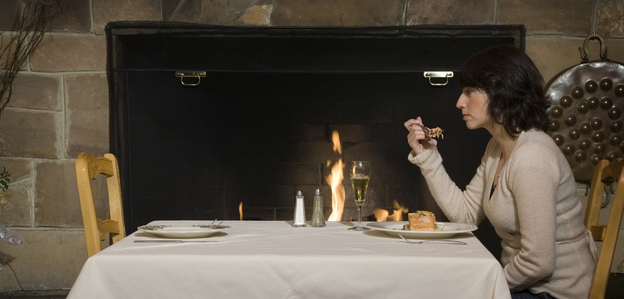 30-11-2018
Few times of the year highlight feelings of loneliness quite like Christmas.
Everywhere you look there are reminders that it's the time of year society expects you to be surrounded by laughing family and friends. The Christmas movies, the TV programmes, even the adverts - they all seem to conspire to convince you that everyone else on the planet has someone to spend the holidays with.
And yet the figures around loneliness suggest that almost a million people in the UK face spending Christmas alone, particularly older people. In Great Britain, there are more than 2.2 million people aged over 75 living alone, an increase of almost a quarter over the last 20 years (ONS).
And charity Age UK says:
There are 1.2 million chronically lonely older people in the UK (Age UK 2016)
Half a million older people go at least five or six days a week without seeing or speaking to anyone
Two-fifths of older people (about 3.9million) say the TV is their main company
Often for these older people, factors like bereavement, ill-health and decreased mobility all play a part in their isolation.
But loneliness is not just something that affects older people. A recent study by the Co-op and the British Red Cross reveals over 9 million people in the UK across all adult ages - more than the population of London - describe themselves as "always" or "often" lonely.
It is well-documented that loneliness and feelings of isolation can contribute to mental health issues like anxiety or depression. But did you know that academics reckon that loneliness can be as damaging to physical health as smoking 15 cigarettes a day, or being obese. It can also increase people's risk of dementia and heart disease.
Admitting you feel lonely feels like a taboo, but acknowledging your feelings can be the first step to overcoming it. The Campaign To End Loneliness suggests you can:
Reach out. Friends and family may be only too happy to come and visit if you ask them. And don't be too proud to accept an invitation yourself

Look after yourself. Eat well and, if you can, take some gentle exercise and keep active

Share your skills and time through volunteering

Find out what's on locally. There may be activities like walks, book clubs, choirs and coffee mornings you could get involved in
If the thought of spending Christmas alone fills you with dread, consider whether there is anyone else in your social circle in a similar situation who may jump at the chance of some company. You could think about offering to volunteer at a local Christmas shelter project, or check out the website Community Christmas, which details lunches and events nationwide for people who would otherwise be alone on Christmas Day.
RICS members who are struggling with loneliness or other issues can speak to a LionHeart counsellor or support officer in confidence. Ring us now: 0800 009 2960 or email info@lionheart.org.uk