Dealing with loneliness at Christmas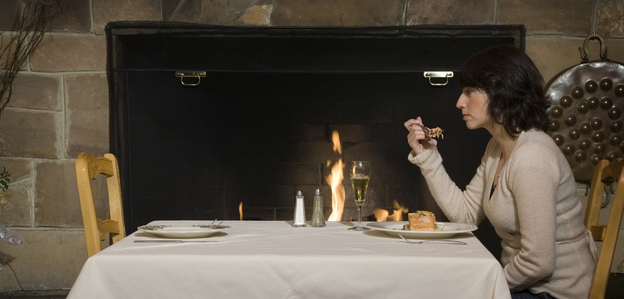 08-12-2015
Few times of the year highlight feelings of loneliness quite like Christmas.
Everywhere you look there are reminders that it's the time of year society expects you to be surrounded by laughing family and friends. The Christmas movies, the TV programmes, even the adverts - they all seem to conspire to convince you that everyone else on the planet has someone to spend the holidays with.
And yet The Campaign To End Loneliness estimates that nearly 500,000 people in the UK face spending Christmas alone this year, particularly older people. Just over half of all over 75s live alone, with bereavement, ill-health and decreased mobility all playing a part in their isolation. But loneliness can, and does, affect people of all ages in all manner of situations.
Mental Health charity Mind says that loneliness can contribute towards problems such as anxiety or depression. And academics have even claimed that loneliness can be as damaging to physical health as smoking 15 cigarettes a day.
Admitting to yourself that you feel lonely is the first step to overcoming it. The Campaign To End Loneliness suggests you can:
Reach out. Friends and family may be only too happy to come and visit if you ask them. And don't be too proud to accept an invitation yourself

Look after yourself. Eat well and, if you can, take some gentle exercise and keep active

Share your skills and time through volunteering

Find out what's on locally. There may be activities like walks, book clubs, choirs and coffee mornings you could get involved in
If the thought of spending Christmas alone fills you with dread, consider whether there is anyone else in your social circle in a similar situation who may jump at the chance of some company. Or, you could think about offering to volunteer at a local Christmas shelter project, or check out the website Community Christmas, which details lunches and events nationwide for people who would otherwise be alone on Christmas Day.
RICS members who are struggling with loneliness or other issues may want to speak to a LionHeart counsellor or support officer in confidence. Ring the helpline on 0845 6039057 or email info@lionheart.org.uk
Useful links
Mental health charity Mind on loneliness
Contact the Elderly runs monthly events
Silver Line runs a helpline for older people experiencing loneliness
SupportLine for younger people struggling with loneliness and other issues
The Calm Zone supports men with emotional issues
When They Get Older has a guide for people who worry their parents might be lonely
Independent Age's guide Healthy, happy, connected - support and advice for older people living alone shows you how to find free local groups, classes and volunteering opportunities
Meet Up lists special interest or social groups by location
Community Network Projects runs phone and online Talking Communities to help tackle loneliness and social isolation
The charity Wavelength provides TVs and radios to isolated people living in poverty