Please support our 2019 Christmas hamper appeal!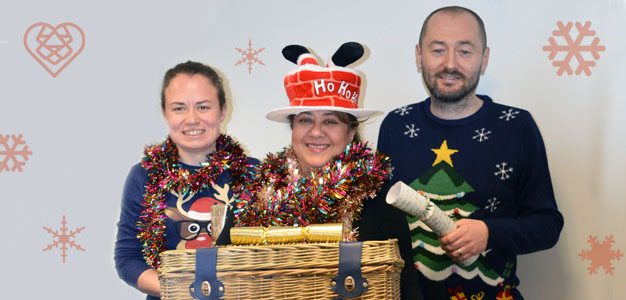 25-11-2019
Could you help us put a smile on someone's face this Christmas?
Every year we send around 100 hampers to some of the people and families we are supporting at Christmas - people who are facing some of the toughest times in life, from serious illnesses, family bereavement or breakdowns.
The hampers contain some Christmas treats and little luxuries, which will hopefully help spread a little cheer at a difficult time.
Support services manager Bena Kansara said: "If you're facing serious health problems or have lost someone very close, Christmas can be a very difficult time of year indeed. While we're not suggesting that a Christmas hamper will magic any of those difficulties away, the families we are supporting often really appreciate knowing they're in someone's thoughts.
"We're asking our many generous supporters if they can help us spread some Christmas cheer by giving just £5 to help us make a difficult time just that little bit happier."
One previous hamper recipient told us: "Can't say how much we appreciate LionHeart's help, from the beautiful hamper to the extra pennies you sent, which will allow us to get some presents for the children."
Another said: "The first Christmas without my husband will be a difficult one, but knowing my daughter and I are in your thoughts is a comfort. Thankyou."
Can you support our festive fundraiser? We're asking people to consider giving just £5 to support our appeal (more if you like!)
To donate:
Text LIONHEART to 70085 to automatically donate £5 (standard text rates apply)
Or text LIONHEART £X to donate any other amount up to a maximum £20
If you're representing a firm that would like to make a donation please contact our fundraiser Carolyn McDonald at cmcdonald@lionheart.org.uk
Thanks so much for your support! Merry Christmas from all the LionHeart team.