RICS president's London to Paris bike ride to benefit LionHeart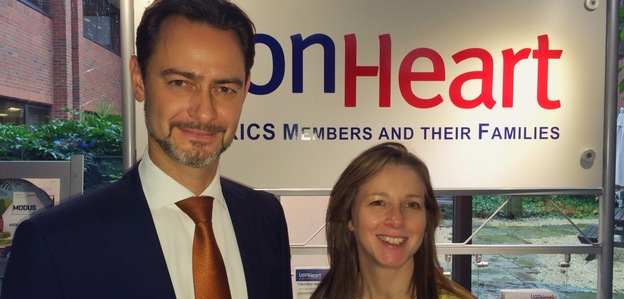 16-11-2015
The president of the RICS, Martin Bruhl (pictured with LionHeart chief executive Davina Goodchild), and two members of its Governing Council are setting off on their arduous London to Paris bike ride, which will raise money for LionHeart.
When Mr Bruhl heard about the journey Matt Wallace and Richard Garland were planning, he says he "couldn't resist the challenge".
The intrepid team will set off from Parliament Square on Friday 20 November, taking just over two days to cover the 175 miles to the landmark Eiffel Tower. They aim to promote RICS' commitment to sustainability through their challenge - raising money for benevolent fund LionHeart in the process.
In a recent visit to LionHeart's Coventry offices, Mr Bruhl admitted: "It's a mad idea, but I couldn't resist the challenge.
"Responsible business is a key part of my presidential year, and the concepts around sustainability are integral to this theme.
"But when you do something as crazy as this it's best to choose a charity - and what could be closer to our hearts than LionHeart? You do a great job for surveyors and their families all over the world."
He said the team would leave the capital with a message from London Mayor Boris Johnson to the Mayor of Paris, Anne Hidalgo, on the subject of sustainability. Just a few hours after their scheduled arrival in Paris, Mr Bruhl is also due to chair a meeting of the Governing Council.
With the eyes of the world on Paris in the wake of last week's terror attacks, their destination has taken on new significance, with Matt Wallace tweeting: "#BusinessStandsWithParis"
Mr Wallace, Governing Council member and partner with Arcadis in Birmingham, said: "Cycling to Paris is just one way to demonstrate how through marginal gains we are living out the values we uphold as professionals around the sustainability and CSR agenda. I just hope we don't wear out the President in the process.
"What better opportunity to raise awareness and money for LionHeart, who do a magnificent job providing support services in the form of finance, health and wellbeing packages to RICS members past and present, as well as their families."
They will be sharing the highs and lows of their journey on Twitter, using the hashtag #RICSL2P, and will also be revealing facts about RICS' work around sustainability.
To donate, click on their Just Giving page or text a donation to RICS75.