Royal date for LionHeart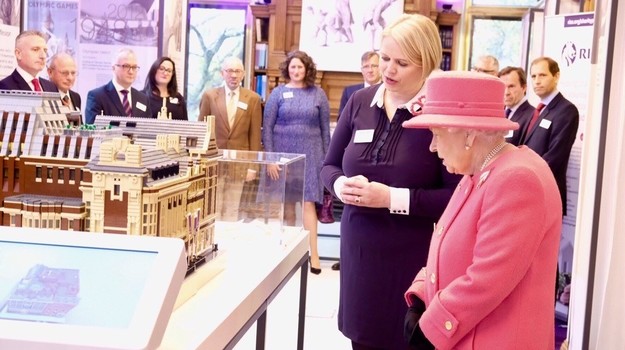 20-11-2018
LionHeart has been represented at a Royal visit to RICS headquarters in Westminster to mark the institution's 150th year.

Chief executive Davina Goodchild, LionHeart board chairman Peter McCrea and vice-chair Dayle Bayliss were among specially invited guests attending the visit by Her Majesty Queen Elizabeth II on November 20.
As well as meeting RICS leaders and key professionals, the Queen was also asked to perform the honours in sealing up a time capsule that had been put together to reflect 150 years of the RICS profession.
As well as containing memorabilia and reflecting on the contributions surveyors have made to the global environment over the last 150 years, it also looks ahead to what the next 50 years might bring. The capsule will be re-opened in 2068, when RICS marks 200 years of existence.
Welcoming the Queen - who is patron of the RICS - chief executive Sean Tompkins spoke of the next generation of surveyors, the drive to match professional standards with the constantly changing built environment, and the importance of diversity and inclusion.
Davina Goodchild said: "LionHeart was very proud to stand alongside our many friends, supporters and colleagues from the RICS for this Royal visit marking its 150th year.
"Although we have been known by various names throughout our own long history, LionHeart has been there to support surveyors for well over 120 of those 150 years, and we look forward to being part of the RICS community for many more years to come."
LionHeart board chairman Peter McCrea FRICS was among the few guests introduced to the Queen (pictured above).
He said: "It was an absolute honour and privilege to represent all the LionHeart team in meeting the Queen this morning. Her Majesty was clearly already well aware of the organisation and our work, but was interested to learn of the new directions that LionHeart has embarked upon in the last few years."